Models starting to agree: South Florida is going to get a direct hit from Irma
BY JENNY STALETOVICH SEPTEMBER 08, 2017 7:49 AM
http://www.miamiherald.com/news/weather/article171968447.html
Hurricane Irma tightened her grip on South Florida early Friday, becoming overnight what everyone has long dreaded: a monster hurricane bearing down on Miami and a coast with 6 million people.
Reliable forecast models projecting the storm's path predictably began to agree on a final, fateful track, with a direct hit along the south coast Sunday, although any wobble at this point could still change the storm's course. At two days, forecasts still have an 80 to 90-mile margin of error, National Hurricane Center forecaster Mike Brennan said.
Irma is heading west and should continue moving in that direction over the next 24 to 36 hours, forecasters said early Friday, with hurricane conditions in the Keys and mainland starting Saturday night. Tropical storm-force winds should start in the morning.
Irma was located just under 450 miles southeast of Miami at 8 a.m., forecasters said.
Sometime Saturday, the storm should begin making a critical turn to the north. But the turn will likely be too late to spare Florida from punishing hurricane winds that extend 70 miles from Irma's center.
National Hurricane Center
Overnight, the hurricane weakened slightly, with sustained winds dropping to 150 mph Friday morning. Fluctuations in intensity are expected, but Irma is still projected to hit as a dangerous Cat 4 storm, something not seen in South Florida since Andrew, a far smaller hurricane, slammed south Dade 25 years ago last month as a Cat 5.
20h
Eric Holthaus
✔@EricHolthaus
On the left, Hurricane Andrew (1992).
On the right, Hurricane Irma (today).
(images to scale) pic.twitter.com/JCdxuP0tqm
Follow
Joel
✔@JoelNihlean
I combined the images of Hurricane Andrew (1992) & Hurricane Irma (today) at scale in a gif. Irma is a damn leviathan. pic.twitter.com/4HEw1NNxxd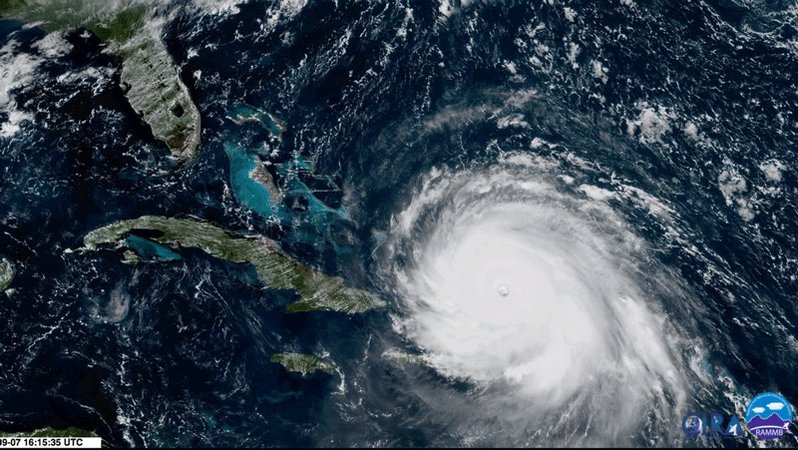 Irma's eyewall began collapsing and rebuilding overnight, a common restructuring in fierce storms that can cause them to weaken slightly. In Irma's case, the storm has rekindled with each replacement. There's a possibility Irma weakens more if it passes closer to Cuba Friday, forecasters said, but that remains to be seen.
Once Irma hits land, it should lose intensity quickly, forecasters said. However hurricane-strength winds near the storm's center are still expected to be widespread, with tropical storm force winds lasting at least 14 hours as it passes.
Overnight, Irma continued rolling through the Caribbean after pounding islands in the French territories. The Turks and Caicos, where communications were knocked out, reported roofs ripped off, widespread blackouts and flooding. Dangerous storm surge and heavy rain will likely continue pounding the islands through Saturday, with heavy rain also forecast for Hispaniola.
The U.S. Virgin Islands lost its 911 call lines. The small island of Barbuda reported damage to 95 percent of the island, including its hospital and airport. At least 11 deaths so far have been blamed on the storm, with dozens more injured. The number of deaths is likely to climb.
Irma should move between Cuba's north coast and the southeastern Bahamas throughout the day Friday.
All of South Florida remains under a hurricane warning, with evacuation orders for parts of Miami-Dade and Broward counties, that include 680,000 in Miami-Dade. All residents and visitors have been ordered out of the Keys. A watch has also been extended north along the east coast to Sebastian Inlet and on the west coast to Anna Maria Island, essentially putting the entire lower half of the state on alert.
National Hurricane Center
The South Florida coast and Keys are also under a storm surge warning, with surge levels projected to reach between five and 10 feet.
"It could be as high as your head, or twice that high," Brennan said. "That's life-threatening."
Because Biscayne Bay is so shallow, wind can easily pick up and move water, he said.
"You're going to have water blowing up Biscayne bay. The bay responds really fast. It's shallow. So the bay's going to respond very quickly to that wind," he said.
And places in the Keys may get slammed by a double whammy of storm surge.
"The Keys could get storm surge from both sides," Brennan said. "You can get almost two separate rounds."
While Irma compares in intensity to Andrew, Brennan said the impacts from the storms will likely be different. Andrew approached the coast perpendicularly, plowing westward over South Dade after hitting Elliott Key, and chewing up Country Walk and other neighborhoods in its path with intense winds. Irma is coming from the south, moving northward and pushing water in front of it expected to cause more surge across a wider swath, before plowing up the peninsula into Central Florida.
"Every storm is always different." Brennan said. "The hazards are always different."